Trade shows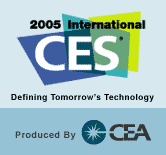 Last week I had the chance to visit
CES 2005
. It is an amazing event, but you have to wonder how the grandkids are going to react to the idea of a "trade show." If you think about it, CES has a lot of problems:
It is incredibly expensive to create a booth. The big ones cost millions of dollars and take up 10,000 square feet or so.


Then you have to ship and assemble the booth, and take it down at the end of the show.


For the attendees, you have to pay for the plane ticket to get there, then the hotel and meals while you are there, any taxi rides and entertainment, the ticket into the show plus the plane trip home. At a minimum, that's $1,000, probably more.


I came from the east coast, so I lost about a day total in travel time getting there and then another day coming back.


Between the cost and the time, it really limits the number of people who can attend.


And then there is the show itself. There are thousands of booths consuming 1.5 million square feet of floor space. That's more than 35 acres of booths. Think of the biggest Wal-mart SuperCenter that you have ever been in (the kind that has a full supermarket plus a full Wal-Mart, etc. in the same building) -- That's 4 acres or so, and a Super-Wal-Mart is huge. CES is equal to about 9 Super-Wal-Marts! It is so big that just getting from point A to point B becomes a problem.
From an economic standpoint, this is all pretty
sad
. It adds up to hundreds of millions of wasted dollars and hundreds of wasted man-years of time.
Why do people go? I think they go: a) to see all the new products in one place, and b) to be able to talk easily to knowledgeable people who understand the products. Couldn't we do replicate these two things on the Web? That would give us 90% of the value of a trade show at 5% of the cost.
Companies would set up special Web "booths" that have photos/videos/demos of the products that they want to demonstrate. Then there would be
video conferencing links
that let you talk to knowledgeable people from the companies in real time.
Or, if you want to go a step further, do it on the XBox. Let each company's "booth" be done in 3-D, like a first-person-shooter game. You walk around the "show" just like you walk around in Halo2 (minus the gun probably). Add in XBox Live and you can talk to the company representatives that way. It would be a whole lot easier, you could see a lot more stuff, and you could talk to a lot more people this way. Plus, no jet-lag when you get home.