Phone books
I opened my front door this morning and found this sitting on the front porch: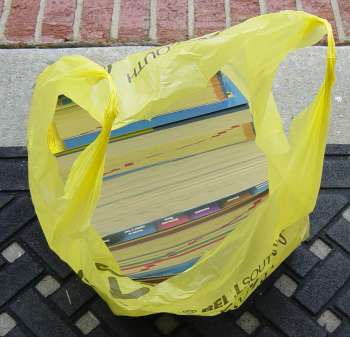 When I picked up the sack my first thought was, "Good grief, How much does this weigh???" Putting it on the scale, I found it weighing 15.2 pounds (imagine a 5-pound bag of sugar, plus a 5-pound bag of flour, plus a 5-pound bag of potatoes). When I opened the bag, here is what was inside -- five phone books: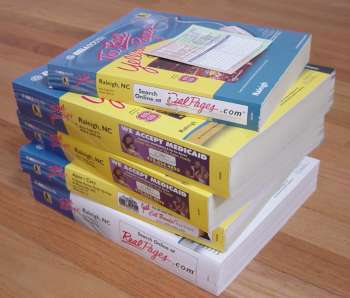 From bottom to top it is the Raleigh White pages, The Apex/Cary White Pages, two copies of the Raleigh Yellow Pages and a mini version of the Raleigh Yellow Pages.
My second thought was, "How much longer are we going to be doing this???"
Think about the massive effort it took to deliver this stack of books to me. There are approximately 100 million households in America. There are also countless businesses and government offices that are also getting their phone books about now. Let's just call it 100 million recipients of the phone book to have a round number, and let's imagine that each recipient received five books like I did. That's 500 million books. That's an astounding number.
Let's further assume that to print, warehouse, transport and deliver each book it costs $2. That's a billion dollars spent every year. I can imagine the conversation with the grandkids in 2050 going something like this when the subject comes up:
Grandkid: Wait a minute wait a minute wait a minute. You mean to tell me that, in the year 2005, after the Web had been in existence for more than a decade and the Minitel service had been available for two decades, you were still using paper phone books???"

You: Well, yes.

Grandkid: In America???

You: Yes.

Grandkid: Wasn't America, like, the most advanced nation on the planet in 2005?

You: Well, not quite the most advanced, but certainly in the top 10...
It's so
sad
when you think about it. There's the $1 billion dollars wasted printing them. There's the 1.5 billion pounds of paper -- untold square miles of forest. There's the millions of gallons of gasoline spent transporting and delivering them. All of that wasted because they could be delivered electronically in one way or another with very little cost and very little environmental impact.
And what did I do with my five brand new phone books? I tossed them in the recycling bin, of course. Who the heck uses phone books any more? You can find stuff in a tenth of the time on the Internet.
It will be interesting to see when these relics of the stone age actually phase out of our society. Will they be with us for 10 more years? Or will they hang on longer?
[PS - So why did I open my door this morning? So I could walk out and collect this other relic of the stone age that suffers from many of the same problems: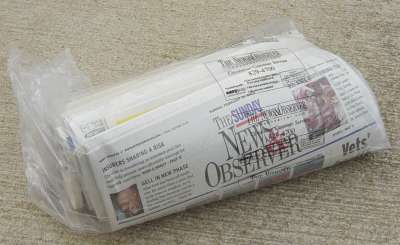 But we will save that for another day...]