Traffic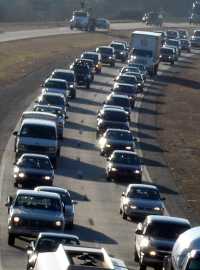 If there is one thing that will appall people in 2050, it is the notion of
traffic
. The traffic problems that we experience in the United States today are pathetic beyond belief.
The traffic that you see in the photo to the right is normal morning rush-hour traffic on Interstate 40 in Raleigh, North Carolina. It really is called "Interstate 40", and it really is
supposed
to be an Interstate highway flowing continuously at 65 MPH, but most normal people would refer to it instead as a
parking lot
. Every city in America sees exactly the same thing every single weekday morning and evening.
Think about just how
sad
gridlock traffic like this is:
It wastes a gigantic amount of time.


It generates an incredible amount of anger, which we now call "road rage" because it is so common.


It creates piles of pollution and wastes tankers full of gasoline.
How much time does it waste? Assume that one million people waste 30 minutes a day in gridlock rush-hour traffic. That is 256 man-years of wasted time per day. If you assume that one man-year is worth $30,000, that represents over $7 million in lost productivity
per day
.
But then you think about it -- there's more like 100 million people in the United States sitting in rush hour traffic every morning. And they are doing it 244 days per year. So we are talking about a number that approaches $200 billion per year. That is $200 billion in totally wasted time, all because we can't design our roads right. To the average commuter, personally, we are talking about something on the order of $2,000 per year in wasted time.
What is so amazing about the traffic disaster in the United States is that it is a totally
man-made
problem. Human beings design the road systems. Human beings drive every single car. It's not like the weather, where we are helpless in the face of massive natural forces that are way beyond our control. Humans have TOTAL control of every part of the traffic equation.
There are lots of ways to get control over the problem, but we refuse to take the needed steps. For example, at the simplest possible level, we could create laws that prevent a city from growing beyond the carrying capacity of its highway system. Once the population of the city starts to approach the carrying capacity, development would shut down. We have laws like that to control the growth of cities beyond the capacity of their sewage systems. Why not roads too? A law like that would have a big impact on the problem, because it would put the onus on developers to prevent traffic jams. Even something that simple is beyond us.
People in 2050 will not have traffic for a variety of reasons:
The entire transportation system will be operated by computers and robots rather than human drivers.


The transportation system will be far less expensive to construct and maintain, making it easier to expand to match demand.


People will have far fewer reasons to travel because of things like virtual reality systems.
People in 2050 will therefore look back at the traffic problems we are experiencing today with total dumbfoundment. "What????" they will ask, "You imbeciles had ZERO control over a system as important as your nation's transportation infrastructure???" And they will be right.
How could we have zero control over something this important? And yet it is a fact -- we have zero control over our transportation system. It happens because of a combination of greed, politics, herd behavior and lack of discipline. We see the effects every single morning as we drive to work, and we have only ourselves to blame for it.
[PS - Is there any chance I got stuck in traffic today??? Perhaps I am suffering from a bit of road rage??? Maaaaaybe...]