Keyboards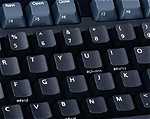 If there is one technology that is going to bring howls of laughter from people in the future, it is going to be the
keyboard
. Talk about
sad
!
Since we use keyboards all day every day and take them completely for granted, it is hard for us to really see how primitive keybards are. But just think about it. You have a thought in your head. You have to emit that thought one letter at a time through your fingers onto an array of buttons. And those buttons have been arranged through the QWERTY layout to be as
inefficient as possible
. It's nuts!
Even sadder are the little thumb keyboards that you find on some cell phones, PDAs and portable email appliances. All of your thoughts are funneled into your two
thumbs
. And even worse is the idea of sending an SMS message using a standard 12-button cell phone keypad. That goes beyond sad into the realm of insane in terms of inefficiency. The idea that people have to peck out a message with one finger on a keypad where every button is overloaded with 4 or more different characters is ludicrous. We will look back on it as a bad nightmare.
Fortunately we should begin to see the demise of the keyboard sooner rather than later. What, maybe ten years from now dictation software is smart enough to enter the mainstream? Twenty tops? Something like that. The keyboard will be gone for good. We will go to museums like the Smithsonian and see a keyboard in a display case... We will look at it in the same way that we look at chipped stone arrowheads -- primitive in the extreme.