Visiting the Dentist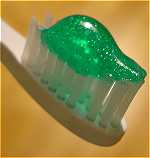 The next time you go to the dentist to have your teeth cleaned, think about what is going on. You lie on your back with your mouth wide open. Seated next to you is a woman dressed like a space alien (goggles, face mask, rubber gloves, tyvek biohaz suit...)(OK, maybe no tyvek, but close) and she is wielding instruments of torture. She reaches into your mouth with a scraper and a little mirror and scratches off pieces of calcified tartar one tooth at a time....
Is it possible to get any more primitive than this???? It is so
sad
.
It reminds me of the sort of stories you hear about "surgery" in the civil war, where the only treatment for a serious wound in an arm or leg was amputation using a saw. No anesthetic, no sterile operating theater, no antibiotics. Just cut if off and hope for the best. That was
sad
-- no other word for it (OK, the words disgusting and barbarous also come to mind). These were primitive people and amputation was all they had.
Today, when we go to the dentist, we are primitive people. What we have is a person reaching into our mouths with a
scraper
. When that doesn't work we get cavities, and we turn to a dentist with a
drill
. A drill of all things! And when that doesn't work, the tooth gets
pulled out
. This does not sound a whole lot more advanced than civil war surgery...
Dentistry really has not changed much in the past several centuries. The whole idea of "brushing your teeth" is pretty amazingly primitive, and don't even get me started on flossing. Imagine what the grandkids will have to say about that -- "What, you had to thread a piece of STRING through your TEETH every day??? That's totally insane!". By 2050 the entire profession, I pray, will be largely eliminated. Someone will come up with a pill or a spray or a mouthwash that completely eliminates the bacteria that cause tartar/plaque.
When we tell our grandkids about dentistry in the early 21st century, they will either a) throw up or b) laugh with disgust. Common exclamations will be things like, "The woman reached into your mouth with a scraper and did WHAT???" or, "He drilled right into your TOOTH???? Didn't that HURT????"