Locks and keys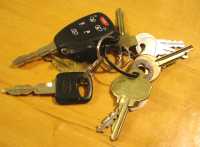 The next time that you walk up to the front door of your house, pay attention to what you have to do. You will reach into your pocket and grab a handful of keys (this is a major pain in the neck if you happen to be carrying a package, a bag of groceries or a small child). Then you will select one of the keys and stick it into a lock. Then you will turn the key to open the door. You've been doing this since you were a kid, and people have been doing it pretty much the same way for centuries.
This is
sad
. Every time I walk up to my house and go through these motions (especially if I am carrying a kid), I find myself muttering, "You idiot door -- recognize me!" Recognize me and open automatically. We interact with doors dozens of times every day. Why do they have to be so stupid?
Here's another thing. Think about all the belongings that you keep in your home or business, and how much all of those belongings are worth. We conside locks to be "secure," and we think of all of our belongings as being "safe." The funny thing about locks is that they are pathetic when it comes to security. What happens when you lose your keys? You call a locksmith and he comes over and picks your lock in a minute or less. Most criminals also know how you pick locks because
lock picking is incredibly easy
.
In other words, we protect thousands and thousands of dollars worth of stuff with a technology that can be picked in 60 seconds. It is amazing that the security technology used across America and around the world is so primitive and
sad
.
There are all sorts of disadvantages with the current lock/key system we use today:
As mentioned, any criminal can pick a lock in no time.


If you lose a key and someone else picks it up, they can walk right in.


If you misplace your keys (which happens about twice a week in my houshold), you can waste 10 or 15 minutes finding them.


If you give a key to someone else and then later regret it, you have to change all the locks in your house.


If you give a key to someone, that person can easily make copies of the key and give the copies to people who you would have never trusted with a key.


If a hundred people need access to a door (say at a business), then you have to issue 100 keys. That becomes a big logistical problem and it is expensive.
I can imagine going up to the attic in 2050, opening a box to look for something and finding an old key ring with 20 keys on it. The grandkids will look at the keys and ask, "what the heck are those???" When you tell them about locks and keys, they will laugh at this quaint and ancient practice. The reason they will laugh is because, when they walk up to any door, the door will recognize them and slide open automatically if they have access to the area (if there's an area of the house where you want to exclude the kids, you will simply tell the door to exclude the kids). There will be no keys and no doorknobs. And they will never find themselves standing outside in the rain fumbling for their keys.