Unconscious devices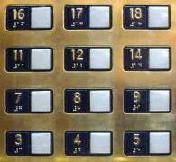 I got on an elevator today. I was the only one on the elevator, but the buttons had been pushed for every floor. Since I didn't want to stop on every floor going up, I ended up getting off and waiting for another elevator.
Let's assume that the elevator spent 30 seconds stopping on each floor. That elevator was out of commission for 10 minutes doing something totally useless. The reason for this wasted activity is because that elevator was an
unconscious device
. Some kid had gotten onto the elevator and thought it would be fun to push every button. Then the kid got off. The elevator, being completely unconscious, could not understand what had happened.
If you think about it, you realize that in the early 21st century we are absolutely surrounded by unconscious devices like this elevator -- devices that are completely stupid about what they are doing and the power they have.
Take, for example, something as simple as a stove. If you turn the stove on "High" to boil some pasta, the stove will send the maximum energy possible to the designated burner. Even if the pot boils dry and the pasta ignites, the stove does not care. The stove is totally unconscious of what it is doing and would happily burn the house down if you let it.
In January we had a unusual cold snap in North Carolina. The faucet in the backyard froze and burst, allowing hundreds of gallons of water to flow onto the lawn and then freeze before the problem was discovered. The faucet had no clue what it was doing.
If a three-year-old walks up to a TV set and turns it on, and if the previous watcher had been viewing hard-core porn, the TV is happy to play hard-core porn for the three-year-old.
Think about how stupid our cars are today. They will joyously run into buildings, bridge abutments, trees and even crowds of people without the slightest qualm. They have no clue about the damage they can so easily cause.
The ultimate example of this problem is the jets used in the September 11 attack. The planes were completely happy running into skyscrapers containing thousands of people. The planes caused billions of dollars of damage through their utter stupidity. That is incredibly
sad
.
People in 2050 will look back at this period in our history with amazement. Every year in the United States alone, 40,000 people die in auto accidents. Millions more are injured. Drunk drivers are a persistent problem. The grandkids in 2050 will ask, "You mean a car could run right into a pedestrian and it didn't even know what it was doing????" In 2050, every object will have a form of consciousness that keeps it from acting in completely senseless ways.
[See also
Manna chapter 3
.]