Hypodermic needles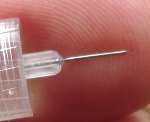 We all know that, especially as kids, the whole idea of going to the doctor to get stuck with a needle is uncomfortable. One of my kids has to get a shot every day, and it is a problem every day. People simply do not like pain.
So why do we have to get shots? Why can't we take everything as a pill? It is because certain medicines cannot survive the acid in the stomach. Insulin is one of those chemicals. Many vaccines fall into the same category.
Back in the 1960s, there was an attempt to replace needles with pressurized guns -- to force the medicine through the skin with pressure. That was not any better because in many cases it hurt more and left a big welt on the skin.
The same problem arises whenever the doctor wants to take blood. The only way to get the blood right now is with a pin prick (for drops of blood) or a needle (for tubes and bags of blood). The problem also arises when an IV is necessary.
It is possible to imagine several different solutions to the problem:
Some sort of permanent injection site -- a little rubberish insert that is permanently grafted into the skin somewhere and that gets used whenever a shot is given. Similarly, there could be a permanent tap on a vein somewhere.


Some type of tiny nano-assembly unit permanently embedded in your body as a child (like a pacemaker) -- when medicine is needed, the instructions for assembling the drug are sent into the unit and it assembles/releases the medicine as instructed. The same device could analyse blood internally, providing a wireless readout whenever you need one.


Even something as simple as an instantaneous numbing cream would be a big help right now.
Whatever path is chosen, this problem is uncomfortable enough that it seems like it will get solved within the next 10 to 20 years.