Farming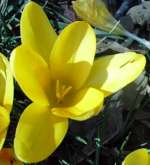 For millions of years humans and our evolutionary ancestors have relied on plants and meat for our sustenance. At first we did the hunter/gather thing, and then we invented farming. Farming has been with us for thousands of years as one of mankind's earliest innovations.
It is safe to say that, within 50 years or so, farming as we know it today will be completely eliminated.
Just think about how
sad
farming is. We start with a huge piece of ground. We plow it up. We plant seeds. And then the problems begin:
If it gets too cold, the plants get frostbite and die
If it gets too hot, the plants bake and die
If there is too little water, the plants dehydrate and die
If there is too much rain, the plants drown and die
Plus there is the incredible length of time -- measured in months -- that it takes a plant to grow and bear fruit
Then there are the funguses...
And the diseases...
And the insects...
And the weeds...
And the animals (everything from mice to gophers to deer eating the crop)...
And the wind...
And the need for special pollinating insects...
And the fertilizer...
And the runoff...
And the seasons (you can't grow anything in the winter, for example)...
And the storage space (because the crop comes in at one time of year, rather than being spread out evenly over the course of the year)...
And so on...
In other words, farming is a total crap shoot. That is why farming will be completely replaced as soon as we have the technology to eliminate it. Farming is an insanely unreliable, slow and expensive way to create food.
What will replace farming? On the plant side, what we will have are machines that produce food. A plant is mostly glucose molecules chained together in different ways (sugar, starch and cellulose are all different variations on glucose chains). Our new machines will nano-assemble glucose molecules into any form imaginable. The basic inputs to a food machine will be electricity, water, nitrogen from the air, a trace mineral cartridge or two and a source of carbon. The carbon will either be extracted from the air or supplied in the form of oil, carbon granules or some other carbon feedstock.
On the meat side, the barbaric process that we use today will be replaced by machines that either
grow (cellularly)
or nano-manufacture the meat.
In 2050, people will look back at "farming" and "animal husbandry" as we practice it today in amazement. They will look upon us in the same way we look at Neanderthals killing mammoths with stone spears. Farming will look ridiculously primitive to people in 2050.
One of the funny things about farming is that we take it so completely for granted. It is like gravity -- we cannot imagine it going away. Even NASA scientists (who really should know better) are trapped in this mindset, believing that we will be farming on space stations and moon bases. For example, you see photos like this:
NASA's caption for the photo is: "When living millions of miles from Earth, you can't afford to have a bad crop! Scientists are using high-tech methods to find the right plant varieties and growing system to ensure reliable and efficient harvests." Please. See
Leafy Green Astronauts
for details.
Obviously we won't be doing that, because farming has so many huge problems. If there are ever human bodies in space for extended periods of time (
which is itself doubtful
), then these astronauts will use little machines that produce all the food they need in any form they can imagine. There will be no farming in space.