Driving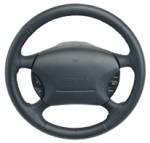 Friday night I was driving in the dark to pick my mother up at the airport. There were a dozen things I needed to be doing -- books to read, reports to write, taxes to compute (april 15th is only a week away) and so on. But I could not do any of those things while driving. It struck me for the millionth time just how ridiculous driving is. I never feel more like a monkey than when I am driving a car.
Think about how ridiculous this activity is – it really is
sad
. I have one hand on the steering wheel. The other hand is on the gear shift lever. One foot is on the accelerator, and the other is on the clutch. My eyes are glued to the road because, if I take my eyes off the road for more than a second, the car will run into another car or plow through a pedestrian. My body is completely enslaved to the vehicle.
It is easy to imagine how the grandkids will look at driving:
Grandkid: You mean, if you wanted to drive somewhere six hours away, you had to sit in that position for six solid hours???

You: Yes. We considered it completely normal.

Grandkid: Six solid hours of staring at a road to keep your car in your lane??? That's normal???

You: Yes, at the time it was.

Grandkid: What a total waste of time!!! What if you wanted to fall asleep or play a game?

You: You had to have someone else drive.

Grandkid: You have got to be kidding me!
The whole idea that we waste an hour or two of our lives
every day
imprisoned in the driver's seat really is nuts.
The "waste of time" factor is one reason why robots will be doing all the driving in the near future, but it is not the most compelling reason. The compelling reason for computer-driven cars is all the death and destruction that human drivers cause. In the United States today there are something like 40,000 fatal automobile accidents every year. If you drive 12,000 miles per year, your chances of dying on the road each year are about 1 in 5,000. We don't think about it, but that is a staggeringly high risk of death. The risk of injury in an accident is even higher. There are so many things that can go wrong if you take your eyes off the road for even a second.
The instant that we have reliable computers that can drive, humans will be forced out of the driver's seat because human drivers are so unreliable. That will be a very good thing. The new robotic cars will drive themselves door to door, drop off the passengers and then drive down the block to park themselves. You will be able to read or watch TV on your way to work and the car will do all the driving. There will be no reason to have a "driver's seat" and a steering wheel in these new vehicles, so the interior of a car can become much more functional -- the front seat can face the back of the car, and it can fold out into a bed. The automated cars will reduce traffic congestion, dramatically improve highway safety and make the drive to work much more comfortable.
This transition should be complete within 25 years. We will look back at all the time we wasted driving like a bad dream.