Buttons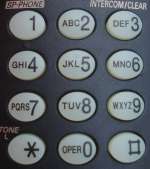 Think about all of the things in your life that have buttons:
Your cell phone
The radio in your car, along with the dashboard
Your microwave oven
Your camcorder and digital camera
And so on...
Anything electronic has bottons -- sometimes lots and lots of buttons.

All of these buttons will begin going away within the next 10 years, replaced by a speech interface. You will speak rather than pressing buttons. You will tell your microwave what to do, along with your cell phone, the car radio and so on. And these devices will talk back.


People in 2050 will look back at buttons the way we would look at a coal-fired oven or the hand crank on the front of the Model T -- hopelessly primitive.