Hard Disks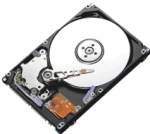 I had one of my hard disks fail over the weekend. When you open it up and look inside, you can see why -- a hard disc has lots of high-speed moving parts. There are the disks spinning at 7,200 RPM. There is the little read/write head flying over the disks just waiting to crash. There's the aluminum arm shuttling the read/write head across the disks to find the different tracks. It's amazing that engineers have made hard disks as reliable as they are given all of these moving parts, but the movement makes hard disks the most failure-prone part of any computer system.
Not only are hard disks fragile, but they are also incredibly slow compared to the rest of a modern PC. The processor is executing instructions at the nanosecond level. Meanwhile, the track-to-track seek time of a hard disk is measured at the millisecond level -- a million times slower. Which is
sad
.
The other thing about hard disks that we do not recognize is their "separation" from the rest of the system. Right now you have the CPU and RAM working at nanosecond levels. The CPU can access any point in RAM instantly. But if the CPU needs something from the disk, it sends a request out to the disk. Milliseconds later, the disk responds, and it sends the data back to the CPU through a wire that is itself remarkably slow.
Imagine how different things would be if RAM was cheaper and always remembered data (even with the power off). You would have the CPU intimately attached to a terabyte of non-volatile RAM. There would be no need for a hard disk (except possibly as a backup device in case of a catastrophic system failure). Instead of "waiting for an application to load" for several seconds from the hard disk, applications would load instantly. Boot times would be nearly instantaneous (if necessary at all -- the only reason to reboot if you have a reliable OS is because of a power failure).
If you look way back in time at the earliest computer systems (only 60 years or so ago...), you will find that one of the first successful storage devices was called the
mercury delay line
. Essentially you had a long pipe filled with mercury, and you would inject sound waves at one end of the pipe. It would take some time for the waves to propagate to the other end of the pipe, and that allowed you to store about 1,000 bits of data in a 5-foot-long pipe.
Today we look at a data storage technology like the mercury delay line and we laugh out loud. 1,000 bits??? 5-feet-long??? Mercury??? Sound waves??? Everything about it is wrong. People in 2050 will look back at our hard disks in exactly the same way.