Airbags
Here is a
description
of the airbag system in my wife's car:
The new Grand Caravan's structure is designed for maximum occupant protection, and safety is enhanced by standard front multistage advanced airbags, a driver-side knee blocker, the Occupant Classification System, which determines passenger-side airbag force depending on passenger weight, and available three-row side curtain airbags.
There are five different airbags and quite a bit of technology to support them. All of these airbags added several thousand dollars to the price of the car.
Now think about how
sad
this is. We need all these airbags because tens of thousands of people die in car accidents on America's roads every year. The reason so many people die is because we have human drivers. As soon as we replace human drivers with robots, accidents will fall rapidly toward zero and we will no longer need airbags in our cars.
In other words, the only reason we need airbags today is because our transportation technology is so primitive -- it requires us to use dangerous
human drivers
.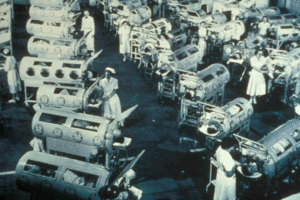 Our grandkids in 2050 will look on this period of our history with the same sort of dismay that we reserve for things like the
iron lung
. Yes, the iron lung was a technology that helped people. But what a terrible stop-gap technology it was. The ultimate solution was to completely eliminate the root problem of polio. Once we did that, iron lungs became irrelevant. Today's airbags are the same sort of stop-gap solution waiting for the elimination of human drivers.