Cars and roads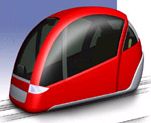 If you look at SadTech posts like the ones on
farming
or
cash
or
locks and keys
, you can easily see why these technologies are about to be replaced by something new. The problem is that these technologies each have a huge list of disadvantages. For example, farming as we know it today has big problems with the weather, seasonality of crops, insects, weeds, pollination and so on. As soon as we can produce food in factories rather than producing it out in open fields, the elimination of traditional farming will happen almost instantaneously.
And so it is with the cars and roads that we use for most of our personal transportation today. There are so many disadvantages and costs with the way we do it today that we will abandon our current system at some point.
Here are some of the biggest problem with cars:
Cars are expensive. The average new car costs about $22,000 today, and it loses about half of its value in three to four years. In other words, it costs you about $10 per day to own a car.

About 95% of the time, however, that $10/day car is sitting idle. It is either sitting in your garage or it is sitting in a parking lot doing nothing.

The space where your car is sitting idle costs money. You see this most clearly at the airport, where you pay $10 a day for your $10/day car to sit idle. But any parking place costs money and we pay for it through higher prices for homes and higher prices for things we buy.

Cars as they are implemented today are a huge source of greenhouse gases.

Something like 40,000 people per year die in car accidents,

Driving as we know it today wastes a gigantic amount of time.

Cars break down and have to be repaired

New items like tires, hoses, belts, oil, batteries, etc. are expensive.

And so on.
Then you look at the road system that we have today and you see something similar:
Roads as we implement them today are incredibly expensive. In rural areas, an Interstate highway costs something like $5 million/mile to build, or roughly $1 million/mile/lane. In urban areas the costs can skyrocket (as best demonstrated by the "big dig" in Boston).

Roads take years -- sometimes decades -- to build.

Because they are so expensive, we never seem to have enough roads and traffic is a huge problem in every city.

Roads and bridges are expensive to repair and replace.

And so on.
Clearly today's situation is
sad
-- this is a system begging for a "better solution."
Anyone who has ever been to Disney World and looked at the monorail system knows that there is a possible replacement to roads sitting right before us. The monorail at Disney rides on a single, simple concrete beam that is suspended in the air every 100 feet or so by a concrete pillar. Compared to an Interstate highway, monorail track is unbelievably inexpensive -- perhps 1/100th of the cost.
There are a number of systems in various stages of development that all look at the current transportation system that we use today and try to come up with something better. They all work on approximately the same model. Here are three of them.
SkyWeb Express
:
The opening sentence on the web site is: "Taxi 2000 Corporation introduces SkyWeb Express, a system that will be faster, safer, more flexible and less expensive than any other mode of transportation." There's a nice video explaining the system architecture and its advantages at the bottom of the
home page
.
SkyTran
:
It's opening sentence is: "SkyTran is non-stop, 100 mph personal transit that can totally eliminate commuter congestion in any city, for the same costs of one linear line of light rail."
Here in the RTP area where I live, we have been hearing for years about a
light rail system
that will install something like 35 miles of track and 16 or so stations for $725 million. Therefore, this sentence on the SkyTran web site is of interest: "People are still being conned into voting yes to be taxed to have archaic, hideously poor performing light rail systems built. Time to properly utilize the microprocessors, sensors and controllers that didn't exist in 1950 to cut costs and move people fast anywhere in a city."
The site
goes on
:
In many cities all over the USA, the bureaucrats are trying to get the area residents to vote to tax themselves an additional billions of dollars to build Light Rail systems. All of these systems would consume millions in studies before construction would begin. When eventually completed in typically 6 to 10 years, the bureaucrats typically claim Light Rail will carry 30,000 to 60,000 people per day. (They never mention that auto traffic will have grown by 10 times those daily amounts in the same period of time.)

Phoenix, Arizona is an interesting example. They want to build a 35 mile Light Rail system at a cost of $1.35 billion ($38.6 million dollars per mile). If the average trip in Phoenix was 10 miles long this would represent 600,000 passenger miles per day. This number is 2.4% of the current (not the year 2010) Greater Phoenix Area's daily commuter traffic of 25 million passenger miles (600,000/25,000,000 = 2.4%).

Newspaper articles brag that even with stops every mile that the Light Rail would average "almost 20" miles per hour (17 mph in reality). This is barely a healthy bicyclist's cruise speed. Definitely not something to brag about.

Sounds pretty useless, doesn't it? Can we use our brains to come up with a simpler, much lower cost, faster system?
SkyTran is the result of that thinking.
Read the whole thing
ULTra
:
The ULTra web site says: "A personal automatic taxi providing on demand driverless travel - using its own guideway network. Effective, low cost and sustainable transport for cities, airports and special applications worldwide." It's max speed is 25 MPH, so
SkyTran
(at 100 MPH) seems more interesting in larger cities where it is 30 miles or more from one side to the other.
In all three of these systems, the roadway is far less expensive and usually suspended. The idea of "owning a vehicle that is idle 95% of the time" is no longer necessary. In a fully implemented system, parking lots are not needed at places like airports, shopping centers or homes, freeing up huge amounts of land and capital. And so on.
Now the big questions -- Are Americans so tied to their cars that they are inseparable? Can we standardize "cars" and track systems so we can gain economies of scale? Can we build these systems with enough flexibility to do everything the current road systems do? Can we actually make a decision as a nation to start developing a new system? Can we overcome all of the inertia of the current system to create something significantly better in terms of cost and expandability?
If the new system costs a tenth as much as the current system and has a number of other advantages, it may be possible.
Either that, or we may totally transcend the need for personal transportation and transportation systems with technologies like
Vertebrane
and the
body-free lifestyle
-- cars and roads become completely irrelevant in that case.